What's Is Prayer: Getting Results in the War Room All About?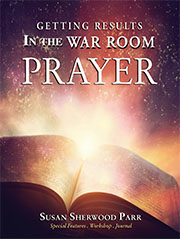 The book Prayer: Getting Results in the War Room contains scriptural facts to answered prayer that will significantly change your life.
Readers gain a new enthusiasm about their prayer lives and how the Lord is working in their lives when they get into this workshop.
They will learn HOW to pray, the different kinds of prayer, and more. For Bible study, and group studies.Download free Prayer Workshop Resources: CLICK HERE
Download APP: Prayer Workshop for Iphone, Ipad, and Android
Prayer is ALL about:
God's Integrity
The Integrity of His Word [Scripture]
Finding specific promises to rest your faith upon
Resting your faith in His power and in His Word
 Just a few of the features in the book?

What's God's Part?
What's My Part?
What's the Point?
At the Workbench
Prayer Request and Journal Pages
Prayer groups using this teaching have seen answers to their prayers in the national news. It has been a true source of excitement for all participating. Good for group study or individual study.
Plan your spiritual growth. Have you ever prayed:
"Lord, make prayer and my time with YOU as necessary food…and I'll give You all the glory"? Try it!
He will definitely answer you. Can't you imagine…God loves it when we pray that way. THAT is an unselfish prayer PLUS it is a prayer that causes us to come close to the Lord. He does love that.
Download free Prayer Workshop Resources: CLICK HERE